Read Native 2021
American Indian Library Association invites you to participate in the inaugural reading challenge. With this challenge we support and recognize our Indigenous authors, scientists, legislators, storytellers, and creators throughout the year, not just during the national Native American Heritage month.
Throughout the year, find and read books and publications by and about Native Americans; visit tribal websites; search peer reviewed scholarly journals; visit Native-owned bookstores; and check with Native librarians for all of the best sources for learning more about Native Americans and Indigenous people around the world.
HOW TO PARTICIPATE:
Read each of the suggested categories and write the title of your choice on the line next to the entry.
Read challenge entries in any order you choose.
Take a picture of your completed book list and send it along with your contact information to readnative21@gmail.com for a change to win prize packages.
CHALLENGE LISTS
Read Native Challenge                              Read Native for Kids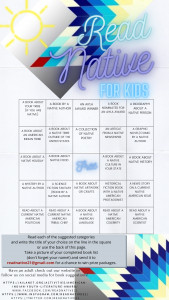 ACTIVITIES IN 2021
Look for activities via social media, such as book suggestions, conversations, links to quarterly webinars with authors, and sharing activities to build community around Native American and Indigenous work.
BOOKLISTS
Booklists and author lists will be added throughout the year, to help you find items like storytelling websites, or legislation. Feel free to ask for readers assistance at readnative21@gmail.com. These lists are merely suggestions, and not required reading for the challenge. Booklists will be added every week.
Also, check out the American Indian Youth Literature Awards for more ideas!
SOCIAL MEDIA