Washburn, Frances. The Red Bird All-Indian Traveling Band. No ed. Vol. 77. Tucson: U of Arizona, 2014. 178. Print.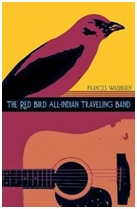 Reviewed by John Baken
Head Librarian IV at Willmar Public Library, which is a part of Pioneerland Library System in Minnesota.
In an entertaining and often engaging narrative, which begins on the Fourth of July in 1969 and ends some four months later, author Frances Washburn allows readers a unique glimpse of contemporary American Indian life on the Pine Ridge and Rosebud Indian Reservations in rural South Dakota. The novel's protagonist, Sissy Roberts, is a smart, articulate, and attractive young Lakota woman who always finds herself on the receiving end of whatever it is people have on their mind. Normally, being the recipient of the town's gossip is not a problem, but when local resident Buffalo Ames turns up dead next to the railroad tracks, after a rowdy Fourth of July night of drinking, dancing, and romancing at the Longhorn Bar in Scenic, Sissy Roberts' life suddenly becomes more complicated than ever.
When she's not waiting tables at the local greasy spoon cafe, Sissy plays a mean lead guitar and belts out songs for The Red Bird All-Indian Traveling Band. As the band's name implies, Sissy and the boys perform at a different venue every weekend. But talented and beautiful young women like Sissy are not always content to bide their time on the reservation. In fact, more often than not, they find themselves pregnant and single with lousy options to choose from, like Sissy's friend Speedy, who lives with Sissy and her family.
In a novel rich in detail and smart about the lay of the land on and around the rez, Washburn's novel is both compelling and educational, especially for non-native greenhorns. To find out what happens to Sissy and Speedy and the many other fascinating characters, including an FBI agent with an eye out for Sissy Roberts, you should read this novel! I highly recommend it for inclusion in any tribal or traditional library.
Frances Washburn (Lakota/Anishinabe) was born and raised on Pine Ridge Reservation in South Dakota. She is the author of two previous novels, Elsie's Business and The Sacred White Turkey, and is Associate Professor and Director of Graduate Studies in the American Indian Studies department at University of Arizona.