By Cheryl Minnema. Illustrator Wesley Ballinger. Minnesota Historical Society Press, 2014.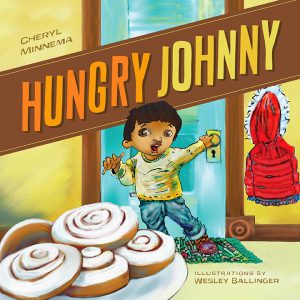 Review submitted by SaraJane Tompkins
Reference Librarian/Pre K-12 Collection, Olson Library, Northern Michigan University
In Hungry Johnny, Minnema presents a believable character throughout the story. Johnny is like many children: a busy, hungry little boy who must learn patience from his family members, but I sensed that the story is both ordinary and special because it includes reminders of the traditions and generosity of Native Americans. Ballinger's colorful illustrations bring life to each page. The details of Johnny's moccasins, his little plastic buddy, Grandma's beaded earrings, and the community that Johnny is part of today reflect Ballinger's understanding of life from Johnny's point of view.
I had the pleasure to read this to my 5- and 3-year-old grandchildren. Two things stood out for me. First they enjoyed Johnny's repetition, "I like to eat eat eat" (a lot). Second was their discovery of Johnny's Community Centre. "Look, we have a community center, just like Johnny". I can imagine Johnny sharing other stories with readers.
As the story and illustrations were created by tribal members, I applaud the publisher and hope to see more support for books from and about Ojibwe children. The glossary even includes an invitation to the Anishinaabe language. I would recommend this book as an addition to any collection.