The American Indian Library Association celebrates 40 years as an organization at the American Library Association Annual Conference in Washington D.C. this June. Please join us for an evening of celebrating our history and our growth as a non-profit organization.
AILA was founded in 1979 in conjunction with the White House Pre-Conference on Indian Library and Information Services on or near Reservations. At the time, there was increasing awareness that library services for Native Americans were inadequate. Individuals as well as the government began to organize to remedy the situation.
An affiliate of the American Library Association (ALA), the American Indian Library Association is a membership action group that addresses the library-related needs of American Indians and Alaska Natives. Members are individuals and institutions interested in the development of programs to improve Indian library, cultural, and informational services in school, public, and research libraries. AILA is also committed to disseminating information about Indian cultures, languages, values, and information needs to the library community.
AILA members are invited to register for a pre-conference tour at the Smithsonian National Museum of the American Indian Cultural Resources Center.
AILA's 40th Pre-Conference Tour at NMAI Cultural Resources Center Friday, June 21, 2019, 9:30am- 1pm.
Limited to 20 people.
AILA's 40th Anniversary Celebration is open to all librarians, but attendance is limited to 75 guests
Please RSVP by June 15, 2019
Please consider becoming a 40th Anniversary sponsor! 
Donations of any amount are accepted via the Donate button below.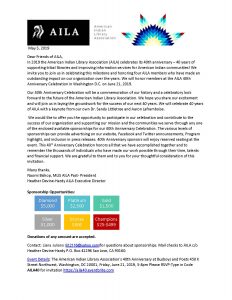 AILA 40th sponsorships