Profile: David Ongley
David Ongley
2011-2013
Director at Tuzzy Consortium Library
Publications
A Lit Fuse. (2006). Library Journal, 13135.
McCook, K., Ongley, D., & Roy, A. (2002). Cultural responsiveness, tolerance, and the Alaska library community. PNLA Quarterly, 66(3), 16-19.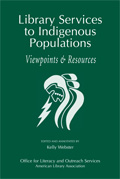 Ongley, D. (2005). Indigenous People and Public Libraris. In B. Biggs & K. Webster (Eds.), Library Services to Indigenous Populations: Viewpoints & Resources. Chicago, IL: Office for Literacy and Outreach Services, American Library Association.
Ongley, D. (2011) Alaska native village libraries : picking up the pieces. In L. Roy, A. Bhasin & S. K. Arriaga (Eds.), Tribal libraries, Archives, and Museums: Preserving our Language, Memory, and Lifeways. Lanham, MD: Scarecrow Press.
Sherif, Sue. (2009) David Ongley Honored in Portland. Newspoke, 22(4), 1.